How To Enter
Please enter your publications/campaigns via our online entry portal, which you can access here:
If you have not entered the Real Media Awards before, you will need to register your details on our portal, and then commence your entries. Previous users will be able to use their username (your email address) and password from last year. You can easily reset your password via the system using the email address registered.
The online portal will allow you to:
Commence your entries, filling in all relevant details, saving at any time and coming back if you need to collect information. You can save and log out, gather any missing details and come back later to fill in any missing information. Each of your entries is saved as you go.

Once you think everything is in, review and finalise all your entries, ensuring all pertinent information has been entered and all attachments saved.

Add all entries into your one cart and then process your payment using a credit card: Visa, Mastercard or AMEX. This saves paying for each entry one at a time. Pay at the end out of the one cart.
PHYSICAL SAMPLES ARE NOT REQUIRED FOR MOST CATEGORIES – Judging is VIRTUAL for 2021/22
Judging is all online for 2021/22, so physical samples are not required for most categories, unless you are entering 5 specific categories (listed below).
Material should be supplied as follows (and remember, each entry can have multiple uploads): 
A PDF of the entire Publication must be uploaded below to complete your entry.

A PDF or JPEG of the Cover must be uploaded below to complete your entry.

A PDF with a portfolio of images or other supporting material to support your entry can also be uploaded. For example, for Point of Sale, this could include presentation pages and photos of the instore display, or you may wish to upload digital samples of other components of a campaign. You can uplaod multiple, additional supporting material, just keep it all succinct, Judges will not have time to pour through extensive pages.

Please do not upload any further written material as the judges will not consider these. The written component of your entry should be fully explained within the provided form fields.

Please provide the best images available as these will be used in the Winners Book and all other collateral should you be a Finalist or Winner.
PHYSICAL SAMPLES REQUIRED FOR 5 CATEGORIES ONLY
The 5 categories that DO REQUIRE physical samples are:
BED Best Emerging Designer, BET Best Emerging Talent, B2 Real Estate & Property, E1 Creative Design and Execution and E2 Best in Class categories.
If you are entering any of these 5 categories, then please download and print 2 copies of your Entry PDF, and mail the 2 Entry PDFs along with 2 copies of your physical samples to:
Real Media Awards, Suite 6, 151 Barkly Avenue, Richmond VIC 3121.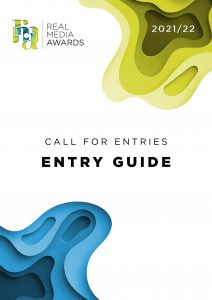 All standard entries are $100 + GST.
Agency of the Year entries are $500 + GST.
Collect all your entries in your cart. Once all your entries are complete, SUBMIT all your entries and pay via credit card, VISA, MasterCard or AMEX. Surcharges apply.
Member companies that wish to bulk invoice a larger number of entries can do so by contacting Phillip Mariette via [email protected] or +61 419 308 013. All of your entrants will need to follow the same process as other entrants, completing and submitting entries, collecting all the entries they are responsible for into their Cart. Then they need to elect Invoice, and list your company as the Billing Company. They will then need to submit this invoice to Accounts for payment on or before 31 December 2022.
Ring, email or Zoom our fearless Awards Leader – Phillip Mariette. He's been waiting for this opportunity to reinvigorate the RMAs, so reach out, ask for advice, have a chat. As he always says, no question is a silly one.
As a last resort, you can also contact the Awards Team at the TRMC office. Someone will always be on hand to help out.
Good luck with your entries!